Where is quarterback Joe Burrow projected to go in the 2020 NFL Draft?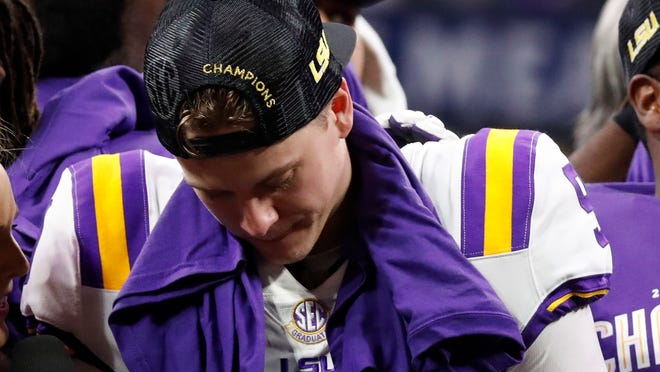 BATON ROUGE — Heisman Trophy-winner Joe Burrow finishes his college football career on Monday, Jan. 13, when LSU takes on Clemson in the College Football Playoff national championship. 
Following the championship game and the end of the 2019-20 season, Burrow will no longer be eligible for NCAA competition and will be headed to the NFL. Throughout his final season full of record-breaking stats — he's the first quarterback in the Southeastern Conference to throw for 5,000 yards and 50 touchdowns in a season, and he's set to break the NCAA completion record — his draft stock has shot up.
Burrow is the No. 2-ranked 2020 NFL Draft prospect behind Ohio State defensive end and Heisman-finalist Chase Young in most rankings, including ESPN, CBS, and the Draft Network. But most mock drafts predict that Burrow will be picked first over Young. Burrow is also consistently listed as the best-available quarterback across rankings.
Where is Joe Burrow projected to go in the NFL draft?
The Cincinnati Bengals have the first pick, and the general consensus across mock draft boards is that the team will select Ohio-native Burrow as the No. 1-overall pick.
Many analysts anticipate that the Bengals will be in the market for a quarterback to replace veteran Andy Dalton. The franchise temporarily benched Dalton in October, and he acknowledged that he was unsure of his future with the team after the final game of the 2019 season. 
Lana Wynn is a digital producer with the USA Today Network. You can find her on Twitter @alanawynn.
More on Joe Burrow