Clemson vs LSU: Tigers' top NFL prospects ahead of 2020 National Championship game
Andre Toran
Lafayette Daily Advertiser
Even with the anticipation that surrounds Monday's College Football Playoff National Championship game, it is never too early to talk the NFL Draft.
The game between LSU and Clemson is loaded with potential draft picks and a handful of first-rounders. The NFL Draft order is set, so more clear-cut projections are being made. 
These projections will continue to develop and become more concrete as the combine approaches and as pro-days are held. LSU has had four players drafted in the first round over the past three years.
This year, LSU could have more players taken in the first round of 2020 NFL Draft than they've had over that three-year span.    
Here's a look: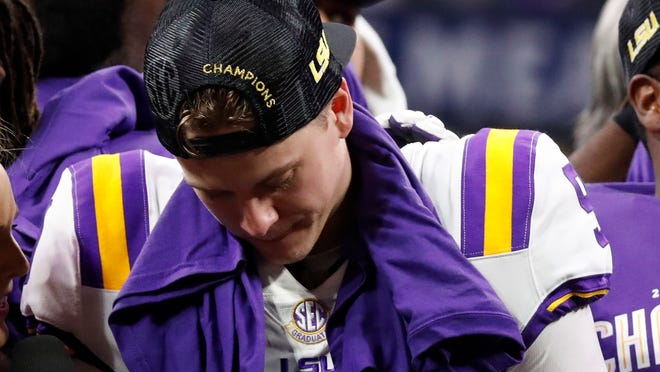 What else can be said about this guy? Burrow has had arguably the greatest season a college quarterback could have as he enters the National Championship with 5,208 yards passing, 55 touchdown passes to six picks, and a Heisman trophy well under his belt.
Burrow is leaps and bounds ahead of his 2018-2019 campaign with Tigers, improving substantially in the accuracy department. In 2018, he completed less than 60% of his passes, a mark that now hovers up around 87% this season. 
But what separates Burrow is his pocket presence, clean feet, an underrated ability to extend plays beyond the pocket, and an all-business attitude. 
Expect the Cincinnati Bengals to take him No. 1 overall with no hesitation; Ohio's favorite son is coming home. 
More:Where is quarterback Joe Burrow projected to go in the 2020 NFL Draft?
Grant Delpit, Safety
Delpit wears LSU's No. 7 for a reason. The number has steadily become a huge part in the lore that the Tigers claim to be "DBU." Beyond that, the number is usually assigned to the team's top playmaker, an unspoken reality that has become an obvious observation.
Delpit has been just that for LSU and was this year's Jim Thorpe award winner for the best defensive back in the nation. He displays elite instincts and isn't shy to come downhill and make plays. His straight-line speed jumps off screen at you.  
His numbers were down compared to 2018 due to an early season ankle injury, but expect Delpit to fall some where in the mid-teens, or some where between the Cleveland Browns at No. 10 and the Dallas Cowboys at No. 17.
Our USA Today DraftWire has Delpit going No. 17 to the Cowboys.   
Fulton is a another piece of this LSU secondary that should be off the board in the first round.
Some are higher on Fulton than others, but at 6-foot, 200 pounds with plus cover skills Fulton may have some teams willing to take a chance. Fulton will compete for the ball, at all costs, from point of contact until the whistle is blown. He is stingy when it comes to giving up position to receivers.
Some boards have Fulton going as high as No. 12 to the Raiders to late first round. The USA Today DraftWire has Fulton going No. 20 to the Jags in the wake of Jalen Ramsey's departure. 
Bend and wiry-athleticism are two of the best ways to describe Chaisson. On fire is another way, as well. 
Chaisson has recorded 4.5 of his 6.5 sacks in the his last two games, and looks to be making a pitch to improve his draft stock.  Chaisson has the upside to become an elite pass-rusher and sports enough athleticism and coordination to get out into space in cover. 
He is a versatile player that can play with his hand in the dirt or stand up, and don't be surprised if teams on the next level expect him fit as a 3-4 outside linebacker asked to do a plethora of things. 
Chaisson should fall anywhere between No. 18 and No. 25. Our USA Today DraftWire 2020 mock draft has the Buffalo Bills selecting Chaisson at No. 22
The 14 catches for 227 yards and four touchdowns sure caught some eyes, after Jefferson torched Oklahoma in the Peach Bowl. Unfortunately for Jefferson, this year's receiver class is so deep and talented that he often gets overlooked in the mix.  
However, his play of late has generated some first-round buzz. Additionally, his ability to go up and compete for 50-50 balls with a pair of soft hands to match have made him an attractive option for contenders looking for a receiver in the late first round.  
The USA Today DraftWire has Jefferson falling out of the first round into the early second, at No. 34 to the Colts. 
More:NFL fans plead for favorite teams to draft LSU WR Justin Jefferson based on Peach Bowl
Worth a mention
The level of talent that will grace the field in New Orleans is evident, and this list doesn't do it complete justice. Outside of the five players expected to go in the first round later this year, there are other substantial contributors on the Tigers' roster that deserve a mention and will be on the an next roster next season.
Contact reporter Andre Toran at 334-322-4631  or AToran@gannett.com. Follow him on Twitter @AndreToran.
More CFP National Championship game: