LIVE UPDATES: Florida Gators vs. Georgia Bulldogs in Jacksonville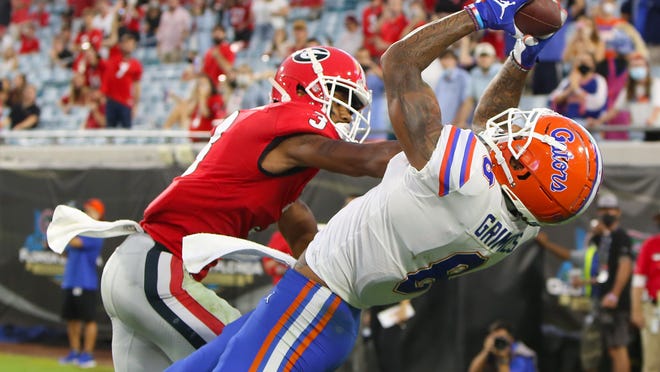 7:42 p.m. | No. 8 Florida 44, No. 5 Georgia 28
Florida   14   24   3   3—44
Georgia   14   7   7    0—28
First Quarter
UGA_Z.White 75 run (Podlesny kick), 14:48.
UGA_Rosemy-Jacksaint 32 pass from Bennett (Podlesny kick), 11:44.
FLA_Shorter 14 pass from Trask (McPherson kick), 8:20.
FLA_Pierce 2 run (McPherson kick), 1:43.
Second Quarter
UGA_Stokes 37 interception return (Podlesny kick), 12:17.
FLA_K.Pitts 25 pass from Trask (McPherson kick), 11:38.
FLA_Gamble 24 pass from Trask (McPherson kick), 7:44.
FLA_FG McPherson 50, 1:44.
FLA_Grimes 14 pass from Trask (McPherson kick), :11.
Third Quarter
FLA_FG McPherson 51, 11:48.
UGA_Ke.Jackson 25 pass from Mathis (Podlesny kick), :41.
Fourth Quarter
FLA_FG McPherson 34, 1:19.
                                     FLA        UGA
First downs                     29          12
Rushes-yards             37-97       29-165
Passing                           474       112
Comp-Att-Int               30-43-0       19-29-3
Return Yards                    0             128
Punts-Avg.                      3-45.0      7-43.7
Fumbles-Lost                    0-0           2-0
Penalties-Yards                3-15        3-35
Time of Possession          37:26       22:34
INDIVIDUAL STATISTICS
RUSHING_Florida, Pierce 15-52, M.Davis 9-21, E.Jones 2-17, Wright 5-15, (Team) 1-(minus 1), Toney 3-(minus 2), Trask 2-(minus 5). Georgia, Z.White 7-107, Cook 6-26, Milton 2-18, Mathis 7-11, Bennett 3-6, Burton 2-3, (Team) 2-(minus 6).
PASSING_Florida, Trask 30-43-1-474. Georgia, Bennett 5-16-1-78, Mathis 4-13-2-34.
RECEIVING_Florida, Toney 7-42, M.Davis 5-100, Wright 3-71, Gamble 3-51, Shorter 3-32, K.Pitts 2-59, Pierce 2-41, Grimes 2-27, Whittemore 2-12, Zipperer 1-39. Georgia, Ke.Jackson 3-48, Cook 3-17, Rosemy-Jacksaint 1-32, Burton 1-8, Z.White 1-7.
MISSED FIELD GOALS_Florida, McPherson 44.
7:37 p.m. | Gators dump Bulldogs
No. 8 Florida takes over the top of the SEC East standings with a 44-28 win over No. 5 Georgia at Jacksonville's TIAA Bank Field.
The Gators improve to 4-1 in ending the Bulldogs' three-game winning streak in the series. Georgia falls to 4-2.
Florida next hosts Arkansas next Saturday at 7 p.m.
FOURTH QUARTER
What went right: Florida's defense held the 'Dawgs to just 19 yards in the fourth quarter, and Amari Burney's interception in the waning seconds added insult to injury as the Gators defense bounced back from a shaky start to finish off the upset in Jacksonville. Gators safety Shawn Davis had a takeaway as well in a much-improved final period of play. Evan McPherson bounced back, too, in hitting a 34-yard field goal after his prior miss as UF secured a 44-28 victory. 
What went wrong: Georgia only had one big play, Zamir White's 20-yard rush, in what was a decisive final quarter from Florida after a third period where UF failed to put the game away. 
Play of the quarter: Burney's interception doubled the UF secondary's takeaway total this season, possibly giving the unit some confidence back in the process.
— Graham Hall
Florida      14   24   3   3  — 44
Georgia     14     7   7   0  — 28
McPherson connects on a 34-yard field goal to put UF up 44-28 with 1:19 remaining in the game.
UF safety Shawn Davis intercepts Mathis and returns it 37 yards to Georgia's 16.
Trask connects with Kadarius Toney for 21 yards to the Georgia 34, as the Gators are working to run down the clock. The drive stalls.
After nailing two 50-yard-plus field goals, McPherson missed on a 44-yard attempt with 10:56 remaining that would have given UF a 16-point lead. 
6:43  p.m. | Trask hurting Bulldogs
Trask now with 412 yards passing, which is a record for a Gators QB against Georgia. Kerwin Bell threw for 408 in 1985. And he keeps adding to his totals this quarter.
THIRD QUARTER
What went right: For Florida, it was the first drive of the 3rd quarter. The Gators went 42 yards in seven plays, resulting in a 51-yard field goal by Evan McPherson, making his return to the field after missing UF's victory against Missouri. But that would be just about it for Florida, as the 'Dawgs cut into the Gators lead on a 12-play, 80-yard drive. 
What went wrong: Florida's defense couldn't get the stop on said 12-play drive, and the victory seems less certain considering how this thing's turned thus far. 
Play of the quarter: Give it to McPherson here, whose 51-yard kick extended Florida's lead. But D'Wan Mathis' 25-yard touchdown pass to Kearis Jackson proved to be the most important play for either team. 
Trending: The Gators have the ball inside their own 30-yard line heading into the final quarter. 
— Graham Hall
6:32 p.m. | Dawgs coming back?
D'Wan Mathis passes to Kearis Jackson for a 25-yard TD with 41 seconds remaining in thequarter to bring Georgia to 41-28.
Cornerback Kaiir Elam intercepts a Bennett pass at the UF 35.
Florida      14     24    3
Georgia    14       7     7
6 p.m. | Gators go up 20
McPherson nails a 51-yard field goal to put UF up 41-21 with 11:48 remaining.
Pitts and right guard Stewart Reese won't return for the second half, Mullen told CBS.
5:50 p.m. | Gators are rolling
SECOND QUARTER
 What went right: Just about everything. With Trask on target and his receivers getting open and making plays, the Gators were unstoppable, putting 24 points on the board in the quarter to take a commanding — and stunning — 38-21 lead. Perhaps the most stunning play of all came in the closing seconds, when Trevon Grimes made a leaping, 16-yard reception in the end zone to put the Gators up by 17 points. It was the fourth touchdown pass of the game for Trask and third in the quarter. His other two TD tosses were 25 yards to Pitts and 24 yards to No. 2 tight end Kemore Gamble. While the offense was flying up and down the field, the defense, which look so vulnerable in the first quarter, shut down the Bulldogs' offense — and kept giving the ball back to the offense.
 What went wrong: Just like in the first quarter, the Gators got off to a bad start that saw them fall quickly behind. A poor pass route led to a pick six by Georgia cornerback Eric Stokes. But that wasn't the worst thing that went wrong in the quarter. Midway through the quarter Pitts was the victim of a targeting foul by UGA safety Lewis Cine that knocked him out of the remainder of the quarter.
 Play of the quarter: The Trask-to-Grimes TD with 11 seconds left in the half.
Trending: Gators offense
— Robbie Andreu
5:30 p.m.| Gators lead 38-21
Trask connects with Trevon Grimes for a 14-yard TD, his fourth TD throw of the half. UF leads 38-21 with 11 seconds left. Trask is first player in SEC history to throw four or more TDs in five consecutive games. He has 22 this season in 4 1/2 games.
Fask mask call on the Bulldogs to the Georgia 22.
Short punt by Georgia sets UF up at UGA 48. 
Florida      14     24
Georgia    14       7
More:Dooley at The Half: Gators go on scoring blitz
5:19 p.m. | Gators up 31-21
McPherson puts UF up 31-21 with 1:45 remaining with a 50-yard field goal. The score capped a 10-play, 63-yard drive.
Trask pass completes to Dameon Pierce for 35 yards to the 50.
5:05 p.m.|Gators take first lead
Trask passes to tight end Kemore Gamble for a 24-yard TD to take the Gators' first lead of the game at 28-21 with 7:44 to play in the half.
Georgia defender Lewis Cine called for targeting on Kyle Pitts. Pitts jogging off the field. Cine is ejected. UF first down at UGA 28.
More:Gators' Kyle Pitts shaken up in violent targeting hit by Georgia's Lewis Cine
Trask completes a pass to running back Malik Davis for 37 yards to the UGA 45.
4:48 p.m. | Gators tie Bulldogs at 21
"(ESPN draft analyst) Mel Kiper Jr. said last week that Kyle Pitts will be a top-5 pick in the draft. He's certainly playing like one again."
— Robbie Andreu
Trask then teams with Pitts for a 25-yard score to again tie the game at 21-all with 11:38 remaining. The score caps a two-play, 75-yard drive. Pitts' eighth TD is also a single season record for a Florida tight end.
"Nay'Quan Wright on the wheel route picks up 50 yards. And he doesn't shy away from that contact either."
— Graham Hall
Trask pass complete to running back Nay'Quan Wright for 50 yards to the Georgia 25. 
"Gators follow up their awful start in the first quarter with an awful start in the second. Trask throws a pick six to Georgia cornerback Eric Stokes. Just like that, the Gators are down again, 21-14."
— Robbie Andreu
SECOND QUARTER
Florida      14   17   
Georgia    14    7
4:41 p.m. | Bulldogs lead Gators 21-14
Eric Stokes returns an interception of Trask for 37 yards and a TD, as Georgia regains the lead 21-14.
___
First quarter
 What went right: After an horrendous start that saw the Gators fall behind 14-0 less than five minutes into the game, UF took command over the second half of the quarter to tie the game 14-14.The first TD drive was sparked by a 38-yard pass from Kyle Trask to No. 2 tight end Keon Zipperer. Three plays later, Trask threw a 14-yard TD strike to wide receiver Justin Shorter to cut the deficit in half. The defense, wrecked earlier in the quarter, then came up with a quick three-and-out to put the offense right back on the field. And Trask and the Gators kept rolling. Trask completed a 22-yard pass to running back Malik Davis and a 34-yard pass to tight end Kyle Pitts that put the Gators on the five. On third-and-goal from the 2, running back Dameon Pierce bulled into the end zone to tie the game. The Gators not only survived.
 What went wrong: The Gators could not have gotten off to a worse start. On the first offensive play of the game, Georgia running back Zamir White rushed around left end and dashed untouched for a 75-yard touchdown. The UF offense responded to that early haymaker by going three-and-out. Moments later, the UGA lead grew to 14-0 on a 32-yard TD pass from Stetson Bennett to wide receiver Marcus Rosemy-Jacksaint.
Play of the quarter: The 34-yard pass from Trask to Pitts that set up the tying TD.
 Trending: Trask and the UF passing game.
— Robbie Andreu
___
4:26 p.m. | Gators tie Bulldogs at 14
Running back Dameon Pierce scores from two yards out to cap an 11-play, 80-yard drive to tie the game at 14-all with 2:46 remaining in the quarter.
Trask completes to Kyle Pitts, who makes a leaping grab, for 34 yards and a first down at the UGA 5. 
Bennett heads to locker room to check out a possible injury.
Trask hits running back Malik Davis for a 22-yard gain to the 50.
UF sacks Bennett to force a punt. Gators start at their 20.
Georgia is set up perfectly with a 56-yard kickoff return by Kearis Jackson to the UF 44.
4:10 p.m. |Gators score TD
Trask hits receiver Justin Shorter for 14 yards to cap a seven-play, 75-yard drive to cut the deficit to 14-7 at the 8:20 mark.
Kyle Trask connects with tight end Keon Zipperer for 39 yards to get into the red zone for the Gators.
And it's starting to rain in Jacksonville.
Georgia has run seven plays to score twice. The score capped a six-play, 61-yard drive.
4:01 p.m. |Georgia takes big lead
Quarterback Stetson Bennett hits wide-open Marcus Rosemy-Jacksaint for a 32-yard TD at the 11:44 mark. Rosemy-Jacksaint broke his right ankle on that TD catch.
UF is missing the play of suspended end Zachary Carter, who will return in the third quarter after sitting out the first half for fighting in last week's game.
Gators go three-and-out on their first possession.
"Couldn't have drawn up a worse start for the Gators. One play, one touchdown for Georgia, followed by a quick three-and-out by the UF offense." — Robbie Andreu
3:45 p.m. | Georgia takes quick lead
FIRST QUARTER
Florida      14
Georgia    14
Georgia running back Zamir White takes off on a 75-yard run around left end to put the Bulldogs up quickly.
3:11|Pre-game and first quarter
Florida looks like it is about back at full strength. Players who missed last week's game are on the field. Kicker Evan McPherson and DBs Donovan Stiner and Shawn Davis are among them.
Defensive back Trey Dean the only Gator of note unavailable for this game. CB Jaydon Hill is in the starting lineup in place of Marco Wilson
2:55 p.m. | Pre-game and first quarter
It will most definitely not be the World's Largest Outdoor Cocktail Party this year in Jacksonville, but it should decide the Southeastern Conference's East Division in an interesting contrast in styles.
The No. 8 Gators (3-1) are sixth in the country in offense at 7.50 yards per play. The No. 5 Bulldogs (4-1) are 14th in yards per play allowed (4.53), but it should be noted that is skewed heavily by one game against Alabama. The Crimson Tide averaged 7.42 yards per play in beating Georgia.
Georgia are already without top offensive and defensive players, was hit with more bad news on that front Saturday. Georgia will be without wide receiver George Pickens today, according to the Atlanta Journal-Constitution. The sophomore has an upper-body injury. Pickens, a preseason All-SEC wideout, has 13 receptions for 140 yards and two touchdowns this season.
More:Florida-Georgia Pregame Notebook: SEC East champion likely to be decided in 'Cocktail Party'
Safety Richard LeCounte, who is recovering from a harrowing motorcycle accident on Halloween night, and defensive tackle Julian Rochester (knee) are out for UGA. Nose tackle Jordan Davis (elbow), safety Lewis Cine (ankle) and linebackers Quay Walker (neck) and Monty Rice (foot) also are banged up and could be limited or unavailable. Davis was ruled out.